Comic Con 2015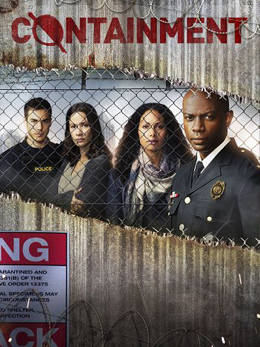 Information
Comic Con 2015
A preview screening of the Containment Pilot and a panel with the cast and crew of Containment will take place at San Diego Comic Con 2015. This page contains information on the event as well as media of the cast, crew and show.
Information
Edit
Saturday, July 11 - 6:15–7:15 p.m.
Containment - Midseason on The CW
When a mysterious and deadly epidemic breaks out in Atlanta, a vast urban quarantine is quickly enforced, forcing hose stuck on the inside to fight for their lives while local and federal officials desperately search for a cure.
Containment makes its Comic-Con debut with a special screening of the entire pilot episode, followed by a Q&A with series stars David Gyasi, Christina Moses, Chris Wood, Claudia Black and Kristen Gutoskie, along with executive producers Julie Plec, Matt Corman and Chris Ord. (Room 6BCF)
Pilot Reviews
Edit
Ad blocker interference detected!
Wikia is a free-to-use site that makes money from advertising. We have a modified experience for viewers using ad blockers

Wikia is not accessible if you've made further modifications. Remove the custom ad blocker rule(s) and the page will load as expected.